If you're trying to find good flooring options for your basement, try an epoxy floor coating! Epoxy floors provide the perfect blend of style and practicality. This type of basement floor coating is made of resin mixed with pigments and hardeners. It's both durable and beautiful, so this floor coating is ideal for basements.
Benefits of Using an Epoxy Floor Coating in Your Basement
Is an epoxy basement floor right for you? You might want to consider this type of floor coating if you want one or more of the following benefits.
Durable: An basement floor made of epoxy is significantly harder than a concrete floor, and it's resistant to most solvents and acids. It can withstand common basement accidents like dropping weightlifting equipment or spilling a corrosive cleaning fluid.

Unique: When you work with a good epoxy floor company, they can mix up custom blends just for you. This ensures you get exactly the color and pattern you want.

Cost-effective: An epoxy floor tends to be a little cheaper than options like hardwood, so it's popular for less-visible areas like a basement or garage floor.

Water-resistant: Basements often hold a lot of moisture, but waterproof epoxy won't warp or crack. Not only does it look great even in humid areas, but it can also act as a barrier to keep ground moisture out of your basement.

Fast application: If you don't want to deal with flooring installers going back and forth to your basement for weeks, epoxy is the way to go. A good professional can get a basement epoxy floor done in less than a day.

Aesthetically appealing: The crisp colors, gentle swirls, and subtle speckles of various epoxy finishes are very beautiful. An epoxy floor adds far more visual interest than a basic concrete floor.

Long-lasting: How long does an epoxy basement floor last? Depending on the type you pick, your basement floor can last up to 20 years.

Easy to maintain: Epoxy is very easy to clean. It doesn't get stained, scuffed, or scratched like other types of flooring, so a broom and a mop can get it looking as good as new in no time at all.
Professional Epoxy Installation Makes a Difference
It is technically possible to epoxy your basement yourself. However, most homeowners will want to skip the DIY approach to their basement floor. A professional epoxy floor coating does more than just save you time and stress. It also ensures that you get fantastic results.
At Epoxy Floors by Welch, we use tried and tested techniques for installing your floor coating. Our team carefully prepares the underlying floor before pouring the epoxy. If necessary, we can even install a vapor barrier to prevent moisture from affecting your flooring. All this prep work guarantees a smooth, even finish, and it keeps your epoxy from peeling or flaking.
As we apply the epoxy, we carefully layer primer and color flakes to create a uniquely beautiful design. We then finish off with a polyaspartic sealant that is strong, chemical-resistant, and easy to clean. This professional approach results in stunning basement floors that complement your lifestyle.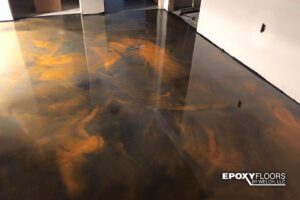 Which Epoxy Floor Finish Is Right for Your Basement?
Epoxy is an excellent option for basement spaces because it comes in such a wide variety of colors and finishes. First of all, you can choose between solid colors or color flake finishes that include gentle speckles of different colors. We offer a broad range of versatile colors, including gray, white, cream, blue, and brown, and we can also mix up custom colors as well. After you select a color, you can choose between matte and glossy finishes. In addition to standard epoxy colors, we also offer metallic epoxy floors. These floors have beautifully marbled swirls and gently sparkling pigments.
With all these options, it's easy to find something that suits your home. For a basement that doubles as a workshop, you can pick a practical speckled brown with an anti-slip finish. If you plan on turning your basement into a den, a glossy metallic epoxy floor in gray and black can highlight your sleek, minimalist decor. Whatever type of style you prefer, there's an epoxy color and finish that's right for you.
Ultimately, an epoxy floor is a great way to enhance your basement. The beautiful texture and shine of epoxy accent a variety of decor types, and the floor coating is also durable enough to withstand wear and tear. If you're considering epoxy, Epoxy Floors by Welch is here to help. Contact us today to schedule a consultation.