We're a preferred installer of metallic epoxy flooring in homes, commercial spaces, and more

Expert Design and Installation of Metallic Epoxy Floors in Kansas City, MO
Does your current floor have stains, cracks, and chips that bring down its aesthetic and functionality? Are you looking for a flooring surface that's both durable and beautiful-looking? Then maybe a metallic epoxy floor coating is the right choice for your Kansas City property.
With our professional flooring services, Epoxy Floors by Welch has transformed hundreds of homes and businesses in the Greater Kansas City area. Our certified, award-winning team can turn your old, decrepit floor into a thing of beauty in a quick and easy process. Discover why metallic epoxy is becoming such a popular choice for properties and why it's a one-of-a-kind flooring system.
What Is Metallic Epoxy?
Metallic epoxy is a special kind of epoxy concrete coating that's applied over an existing concrete slab. This unique coating is multi-layered and includes metallic additives to produce decorative effects. As the epoxy cures, the metallic powder still moves, making a pearlescent design.
Why Choose an Epoxy Floor?
As a subset of epoxy flooring, metallic epoxy still produces the same results as a normal epoxy floor. This means it offers the same great benefits that come with epoxy flooring, such as:
Wonderful Appearance
Metallic epoxy and epoxy flooring itself give any property an instant upgrade in appearance. A worn down, peeling concrete floor can take the life and charm out of any room. With a new concrete coating, you'll have a surface that's bright and stunning.
Unmatched Durability
Whether you have a home or business, the chances are high that your floor encounters a lot of everyday wear and tear. This includes vehicles driving over it, constant foot traffic, equipment or furniture shuffling, and objects falling. These events can cause our flooring surface to crack and wither down. But metallic epoxy surrounds your floor with an extra-strong, protective layer to withstand whatever comes its way.
Great Return on Investment
When you think about the ROI of your metallic epoxy coating, two things should come to mind: the use and property value. With a new and improved floor, you'll get more use and enjoyment out of your property. But better yet, a high-quality metallic epoxy floor also improves your property value, which gives you a better return on your property investment. So when it's time to re-sell your home down the road, you can get more money in your wallet because of your concrete coating investment now.
Our Expertise in Metallic Epoxy Flooring
Too often, people try to cut corners with their epoxy floor, whether they hire a cheap contractor or attempt a coating-DIY kit. Unfortunately, both of these methods won't give you the results you're expecting. A careless, poorly-installed metallic epoxy flooring will end up peeling or falling apart in just a few years.
But when you entrust a team that's worked on countless metallic epoxy floors, you get the floor—and property—of your dreams. That's why you should rely on Epoxy Floors by Welch. With decades of experience, meticulous training, unmatched products, and superior service, we're your go-to concrete coating contractors. We specialize in metallic epoxy flooring to provide beautiful and long-lasting floors.
Customizable Design Options for Metallic Epoxy Floors
The best part about your metallic epoxy floor is it's 100% unique to you. Epoxy Floors by Welch offers customizable metallic epoxy coatings to perfectly accent your Kansas City property.
We personally consult with you from the start to get an understanding of what type of design you're looking for. And with several color, material, and finishing options, you can have a completely unique floor. Plus, because the metallic additive randomly moves while the epoxy cures, every floor becomes unique as a result of the pearlescent design.
Metallic Epoxy Flooring Installation Process
The installation process is the difference between subpar coatings and those that last for decades. This is why we've spent years training our team to perfect the process and acquire the best materials for your floor.
Here's how we install a metallic epoxy floor that looks stunning and lasts for years:
Step 1: First, we consult with you on your floor. Every successful customer relationship relies on effective communication from the get-go, and that's what we strive for. We assess your floor and your wants to determine the ideal solution.
Step 2: We then prepare your floor by thoroughly cleaning it and removing any blemishes, like cracks or divots.
Step 3: To get the epoxy to properly adhere to your surface, we grind down and remove the top layer or existing coating.
Step 4: Next we apply the primer layer, which is a color-tinted epoxy to be the background color for the metallic coat.
Step 5: After that dries, we then apply another coat of epoxy to build the surface's strength.
Step 6: While this coat is wet, we swirl in additional colors to help create the marble-looking design.
Step 7: At this point, we can create additional effects, depending on your design preference.
Step 8: Finally, we add a top layer to act as the shiny, durable coat to keep the surface intact, vibrant, and safe.
Secure Your Free Metallic Epoxy Flooring Quote Today
Are you ready to learn more about the benefits of metallic epoxy floors? Or maybe you're ready to get started installing a new, beautiful-looking metallic epoxy floor as soon as possible? No matter your situation, contact our team today to schedule your free consultation!
UPGRADE TO METALLIC EPOXY FLOORING
Just like all of our floors, the key to a beautiful and long-lasting metallic epoxy floor is proper preparation. If you or your concrete contractor skip this crucial step, your metallic epoxy floor will start to peel or chip in just a few months. Epoxy Floors by Welch takes the time to ensure your floor will look great for decades.
WORLD CLASS PRODUCT
We work with only the best, high-quality flooring products for a surface that shines.
CUSTOMIZED DESIGN
Epoxy Floors by Welch adds color, swirling, highlighting, and texturing to give you a floor unique to you, your home, or your business.
PROTECTIVE TOP COAT
We add a urethane coat to the top of your floor for long-lasting protection, resistance to chemicals, and anti-slip safety.
PREPRATIONS DONE RIGHT
To thoroughly prepare your surface for a concrete floor that lasts, there are a few steps we take. First, we use a shot blaster and diamond grinder to strip the floor. Next, we knock out any loose concrete and fill current cracks or divots with a specialized product. Then, we thoroughly clean the floor to ensure the epoxy will effectively adhere.
A lot of concrete companies skip these steps by using an acid etch to clean the floor. Unfortunately, acid etch doesn't thoroughly profile your floor and results in bonding issues later. Don't settle for a company that's too worried to save time by ruining the entire process.
Find the right care and attention your project needs with Epoxy Floors by Welch. We handle preparation the right way on the first try so you won't have to worry later.
Once your floor is prepared correctly, we add the base of the floor coat followed by high-quality metallic epoxy. Lastly, we add that protective top coat to complete the entire floor in a durable and slip-resistant shield. These layers all work to help with adhesion and durability. Our floors are proven to last longer and withstand elements and foot traffic better.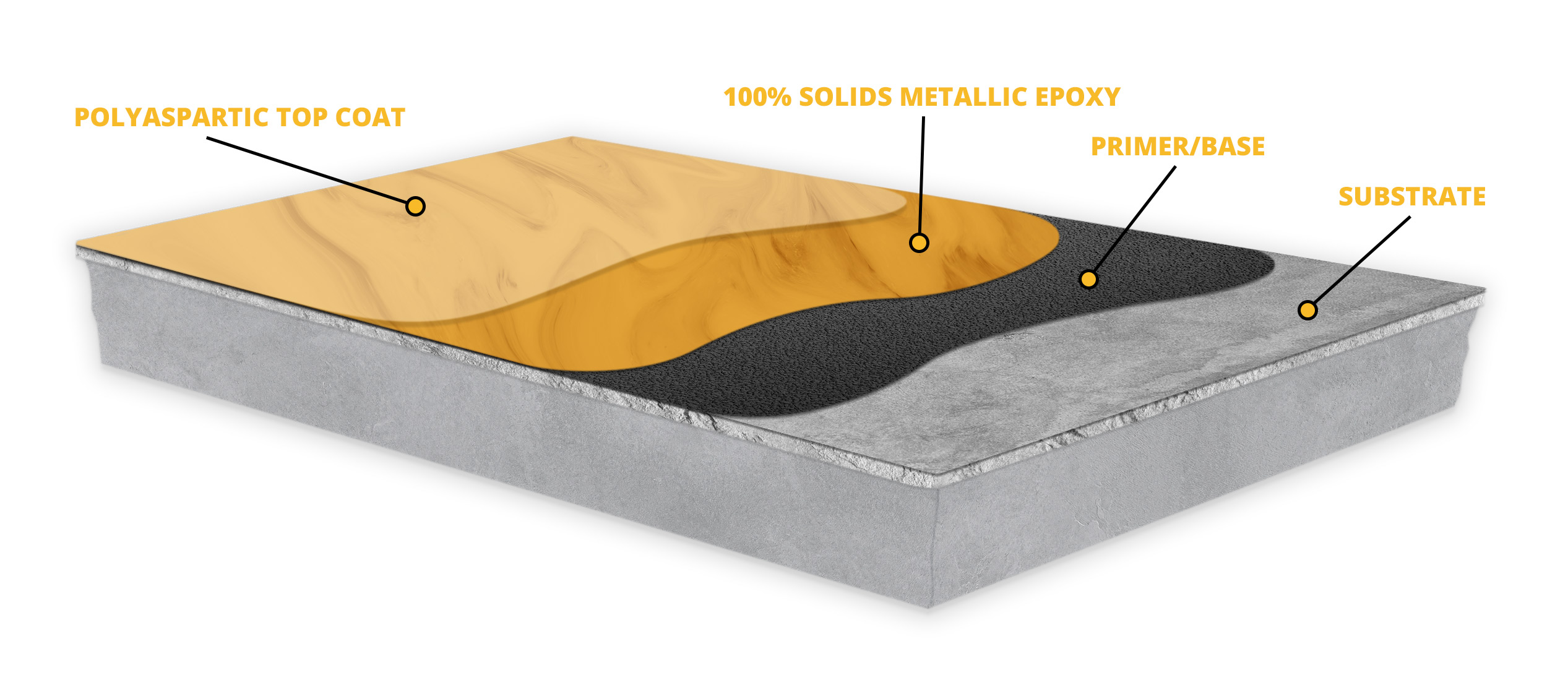 We care about our work to the utmost extent. Our team has decades of experience installing picture-perfect floors, and a reason for that is because we only use exceptional products. We're confident the flooring systems from Epoxy Floors by Welch are the best of the best.
HIGH QUALITY METALLIC EPOXY FLOORING
Epoxy Floors by Welch offers a fantastic metallic flooring system trusted by homes and businesses around the country. Our metallic epoxy is long-lasting, durable, and virtually stain-proof. Our common color and design options range from bright and colorful to neutral and classic—whatever your preference is.
We've installed over 10,000,000 square feet of metallic epoxy floor coating. It's a tried and true option that brightens homes and businesses in an instant. Our products are the best in the business, and that's why we're proud to install them in your house or workplace.
COLOR OPTIONS
We know that finding the right color for your concrete to complement your property is a must-have. That's why we offer endless possibilities for color options to fit your project's exact needs. Any tint, color, or hue can be created, combined, and mixed.
FINISHING OPTIONS
On top of determining the right color, we can give your floor an extra shine with a glossy finish or maintenance-free matte finish. Not only does the finish look good, but it provides a resistance to chemicals, slipping, and UV rays for an extra layer of safety and durability.
INTERESTED IN ADDITIONAL COLORS?
Although we list our most popular color options, don't be fooled! We offer hundreds of other color options that can fit your project just right. Epoxy Floors by Welch is happy to work for you. Get in touch with us today if you don't see a color you like or if you're on the fence about options to discuss the endless array of colors we offer.
METALLIC FLOORING IS PERFECT FOR
FOOD & BEVERAGE FACILITIES
ASK BRANDON ABOUT METALLIC FLOORING
We're sure you have a lot of questions about metallic epoxy flooring and we're here to help every step of the way. Here are some frequently asked questions (FAQs) when it comes to metallic flooring:
What is the cost of metallic flooring?
Metallic flooring is truly the top-of-the-line option for your basement or garage. Not to mention, each floor is completely customized to your preference. Literally no two floors are alike.
Typically, residential basements and garages start at $5-8 per square foot depending on the size of the floor. But, the condition of the floor is the biggest factor on the final price of installation.
Additionally, we can also remove any old flooring, residue, or carpet from your floor. The cost of removing old flooring ranges from $0.25-1 per square foot.
In short, installing a metallic floor is a labor-intensive process which takes about 5 days to complete. Nevertheless, these numbers are just to help you estimate the cost of a new metallic floor. If you want more accurate numbers depending on your project, give us a call today.
How does your metallic epoxy flooring compare to other metallic flooring systems out there?
The metallic epoxy flooring system we use is unique in that each floor is completely different and customizable. For this reason, there is an endless variety of patterns and colors to choose from, so you can have the exact floor you've always dreamed about. The only limitation is your imagination, but there are plenty of examples of metallic epoxy flooring for inspiration.
With our metallic epoxy flooring, not only are you getting the best product, you're also getting the best installation practices. In order to sell and install our flooring, we had to undergo intensive, hands-on training in order to become certified installers. So, you can be confident that your beautiful floor will be installed right, the first time.
What is the turnaround time for installation of metallic epoxy flooring?
Broadly speaking, installing a metallic floor in your home or garage usually takes about 5 days to complete. Nonetheless, install time will depend on the condition of the current floor, the size of the project, and the weather if we're installing in a garage.
The timeline for commercial projects will vary widely depending on the size of the floor. But to conveniently fit around your schedule, we can even work mornings, nights, or on the weekend.
In what rooms can you install metallic flooring?
Epoxy Floors by Welch can install metallic flooring in any room with a concrete base.