At Epoxy Floors by Welch, LLC, we help our neighbors throughout the region find the best solutions for protecting and upgrading concrete floors at their residential, commercial and industrial properties. The following epoxy floor guide answers the most common popular questions that we receive from clients and others who need more information about standard, flake, metallic and other types of epoxy floors.
What Is the Purpose of Epoxy Flooring?
The main purpose of epoxy flooring, also known as epoxy coating and polymer or resinous flooring, is to prevent damage and wear on concrete floors, which is why it's commonly used in commercial and industrial applications. Professionals who have the knowledge and skills to correctly install these floors pour a high-solids mixture that contains a hardener, resin, flake aggregate or metallic solids and other materials over a pre-sealed concrete-floor substrate. They then apply a final finishing topcoat designed to protect the epoxy flooring beneath it.
Epoxy-coated floors are popular, especially in brick-and-mortar retail and grocery stores, coffee shops and restaurants and warehouse environments, because they bond extremely well to concrete. They're great at handling high-volume foot, cart and vehicle traffic and impacts from heavy and sharp objects. They offer abrasion resistance and anti-slip benefits. From a cosmetic perspective, a professional can make them extremely glossy and reflective enough to increase brightness indoors. Property owners can easily clean and maintain epoxy flooring as well.
What Are the Disadvantages of Epoxy Flooring?
As with any home new construction or renovation product, epoxy floors aren't perfect. During installation, the liquid resin can generate hazardous fumes. For this reason, we follow strict safety and ventilation protocols to guarantee that our staff, property owners and others aren't unsafely exposed to fumes. We also use a high-solids mixture that releases fewer solvents and related volatile organic compounds than other mixes. These epoxy floors don't offgas any fumes after the liquid hardens. Additionally, a professional follows similar safety protocols during repairs that involve the use of sanding equipment and liquid resin.
Depending on floor size, epoxy flooring can also take between 48 and 72 hours to cure before foot traffic can walk on it and up to a week to cure entirely under even ideal conditions. Homeowners, for example, might need to procure alternative housing during the curing process. With multiple coats and humid or wet environments, the cure time takes longer. Without a UV-resistant topcoat, epoxy discolor and fades over time. Lastly, high-gloss and extremely smooth epoxy flooring can create a fall hazard when wet from grease, oil or water unless the property owner takes appropriate safety measures.
Are Epoxy Floors Good for the Home?
Epoxy floor coatings provide homeowners with an affordable, modern, seamless flooring option for protecting concrete floors in high-traffic areas. They're a more durable solution than other common flooring systems like wood, natural stone, engineered stone, polyurethane, tiles and vinyl. Homeowners and landlords typically hire a professional to install this type of floor for a basement, laundry room, kitchen, covered patio, workroom or garage as an easy-to-clean, anti-slip flooring solution.
From a design standpoint, epoxy floors offer many color, pattern and texture options that are too expensive to achieve with other flooring materials. A professional can even apply epoxy to stairs so that it matches the nearby floor. Many property owners also hire installers to add epoxy to hallways, driveways and walkways.
For a garage floor, epoxy is perfect because the top epoxy floor coating doesn't absorb liquid or oily staining materials. We also apply a topcoat of polyaspartic aliphatic polyurea that's similar to polyurethane but stronger than it and epoxy. As a result, the floor becomes chemical- and UV-resistant and easy to clean with a broom and mop. Homeowners also don't need to worry about expensive, extensive repairs to deal with any chips and cracks caused by severe top-coat impacts or settling of the concrete floor or beneath the coated epoxy floor. Given these facts, homeowners can increase the value of their homes by investing in epoxy-coated floors.
How Long Does Epoxy Flooring Last?
One of the best reasons to invest in epoxy-coated flooring is to take advantage of its long lifespan. It's a sustainable solution well-known for its durability. When a knowledgeable, skilled professional installs an epoxy floor, the floor typically lasts between 10 and 20 years. Even if an accident or substrate changes cause chipping, cracking or wear over the years, epoxy coatings are easy to repair in a timely fashion. A talented, epoxy-repair specialist can fill and touchup damaged areas with flakes, paint, epoxy and other materials to make the repairs blend in with the original epoxy floor colors and patterns.
If a home or business owner decides after a few years that they want a different color, pattern or texture to match changing interior design trends or personal tastes, an epoxy floor installer doesn't need to remove the old coating. They merely prep and level the old surface and apply a new coat atop it.
Are Epoxy Floors Waterproof?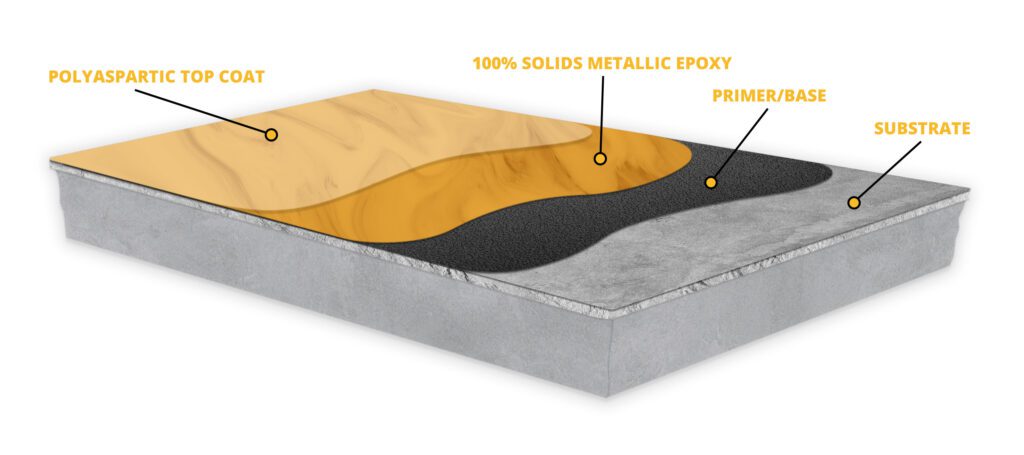 Water resistance with epoxy resin floors depends entirely on the types and amounts of chemical additives used in the main epoxy floor coating layer and the ones in the final sealant. Without the right distribution of additives in the main layer or final seal coat, epoxy flooring can eventually peel when repeatedly exposed to moisture. Since this flooring resists oils, water and other liquids, which is great for a kitchen or garage floor, property owners who face moisture-related damage likely received a poor installation by an inexperienced or negligent installer.
Other factors that influence the amount of water resistance include the amount of moisture in a room during the application and curing processes, the thickness of the coating, the type of resin, the types of epoxy floor and the curing time. Both hard and flexible epoxy resin coatings can crack. If a property owner exposes the epoxy to moisture before the curing process ends, the exposure can cause uneven material shrinkage, weakness and various related problems like peeling and cracking soon after installation.